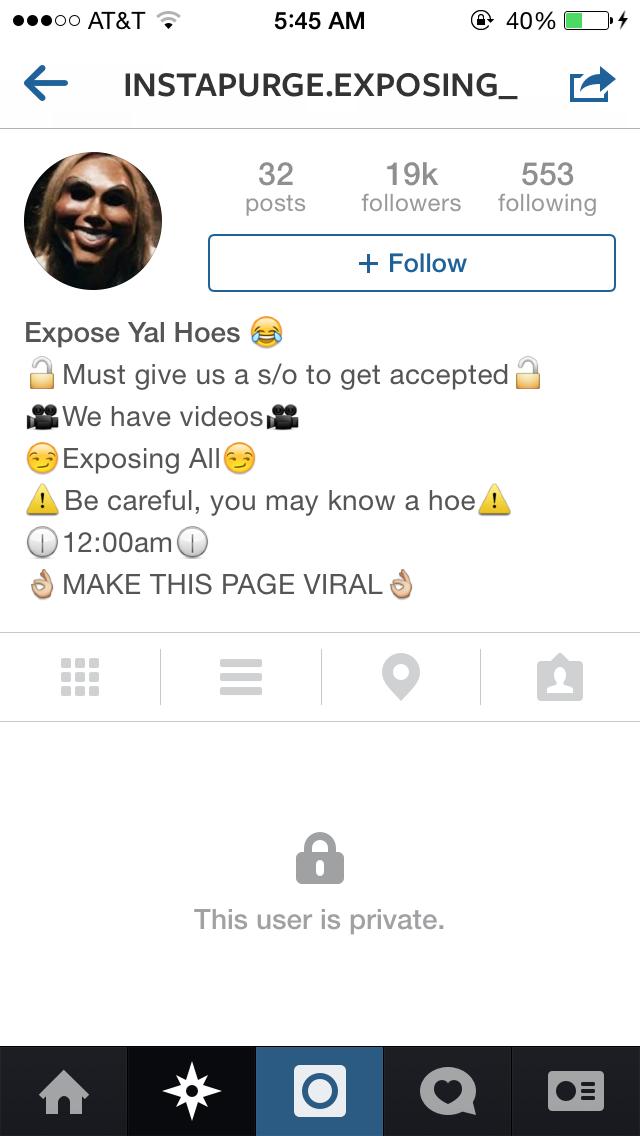 Since last weekend, our site has received a lot of reports from both victims and other concerned social media users about the #purge phenomenon that has gone viral. For those of you unfamiliar, The Purge was a movie that came out in 2013. The storyline featured the premise of all crime being legal for one night of the year. The sequel – The Purge: Anarchy – just came out and has seemingly served as the impetus for some users on Twitter and Instagram (and perhaps other platforms) to (sort of) replicate the storyline. How, you might ask? Well, for a twelve hour period, people are posting and saying whatever they want, and including a hashtag consisting of some variation of "purge" in it (for example, #twitterpurge, #instapurge, #purgenight). Apart from individuals mouthing off in malicious, cruel, and offensive ways (typically against others), the most troubling subset of participants are posting nude pictures of ex-girlfriends and others they wish to humiliate and demean (including those who are underage). This has in the past been termed "revenge porn," as the motivation is often the desire to get back at someone else. You can imagine the emotional state of someone who has been victimized: they are crying out for help as their privacy and trust has been violated in the most extreme way, and don't know how to make the continual harassment and cruelty stop.
Thankfully, many are speaking out and labeling the #purge phenomenon as immature and ignorant, and pointing out that these accounts ruin lives and could push people to suicide. We've also seen anti-purge hashtags surface like #purgenightmuststop or #purgenightnomore, in an attempt to spread the message that this entire idea is horrible, ridiculous, and must end. Finally, I am happy to report that Twitter and Instagram (which is owned by Facebook) have been actively taking down offending accounts in these situations once we let them know of them. The only issue has been combating the copycat accounts which have quickly replaced the ones that were deleted. To be sure, these newer accounts are not really getting as many followers and participation as the originals, and so the hope is that we have reached the tipping point of this particular phenomenon – and its end has begun.
We have written about revenge porn in the past, and unfortunately this is just another instantiation which has gained some traction. The hope is that the speed with which it became a "thing" will be matched by the speed with which it is denounced and quelled. A number of states have specific laws that criminalize this behavior in some capacity: Alaska, Arizona, California, Colorado, Georgia, Maryland, New Jersey, Idaho, Pennsylvania, Utah, Virginia, and Wisconsin. And more than two dozen are considering legislation. Also, there is a federal proposal being floated in DC called the Relationship Privacy Protection Act, which would make it a misdemeanor to intentionally distribute sexually explicit images or video "with the intent to cause serious emotional distress." This would be punishable by up to a year in prison and a $2,500 fine – and third parties who knowingly engage in it could face felony charges and a five-year prison sentences with fines of up to $12,500. The concern, though, is that punitive laws will be passed without thoroughly thinking about a number of issues. Eric Goldman brings up a number of valid points as it relates to California's law: How do you measure intent of causing emotional distress when one distributes the images? What if the recipient of the inappropriate image never agreed it should be completely kept in confidence? What about the role of third parties – those who forward or provide external links to the image? What about hackers (instead of current or former romantic partners) who access and distribute images? These complex questions require great consideration before moving forward legislatively.
I know that this is a sensitive and emotionally-laden topic, and affects those who are involved on a visceral level. And as much as I would like to write a scathing diatribe that indicts those who participate in the #purge and other trends that cause pain and embarrassment to others, I know that won't really solve anything. The bottom line is that while there will always be a minority of social media (or other technology) users who marshal its power in negative ways. And while those who try to get back at their exes or at others by posting private shared with them in confidence are completely in the wrong, we have to be honest with ourselves and remember that these situations can avoided if consider all possible long-term implications before putting ourselves out there.
Part of me wants to shout from the rooftops that you can't truly trust anyone anymore, and so please don't ever take and then send risqué pictures or videos – even using "ephemeral messaging" like Snapchat (or the new messaging features due out in iOS 8), even to someone to whom you are married or have been with for a very long time. And you'd think that all of us would have learned from the sexting horror stories we've heard before (including those which have tragically resulted in suicide). But perhaps those lessons don't sink in deep enough, or we just believe that it's just a casual, fun, and exciting way to flirt, or we're so in love and nothing bad will ever happen, or that the other person would never dare to screw us over. Or we just don't imagine something like the #purge could possibly ever spring up, let alone happen to us. All of these rationalizations are natural. And of course, I want to be gracious to everyone, because we've all been in vulnerable positions and we've all made mistakes we regret.
The premise of the Purge movies and now this #purge trend on social media is that you are free to do whatever you want, and that there are no consequences. But that is Hollywood, and not real life. The reality is that there are always consequences (of some kind, even if not immediately obvious), and though we can't often control what someone does with a compromising image of us, we can often control the creation of that image. And by controlling the creation of that image (by never taking it or allowing it to be taken!), we preempt the problem before it can even possibly happen.