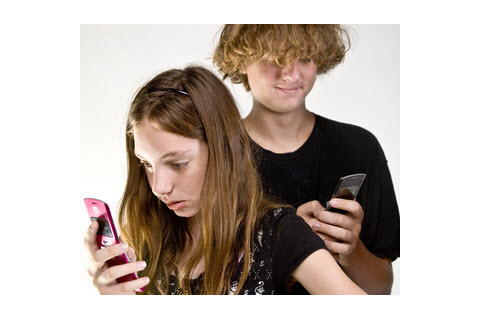 We define sexting as "sending or receiving sexually explicit or sexually suggestive nude or seminude images or video, usually via a cell phone." Most commonly when people use the term "sexting" it is to refer to incidents where minors take pictures of themselves when they are nude or nearly nude and send them to others. Often the pics are sent to romantic partners but when they are "exposed" to a broader audience it can result in big problems for both the sender and recipient. That's because, from the perspective of the criminal justice system, teen sexting could fall under existing child pornography statutes and result in long-term criminal consequences. For example, a teen who takes a nude picture of himself has created child pornography and if he sends it to someone else he has distributed child pornography. The recipient would be in possession of child pornography. Thankfully, it appears that most law enforcement officials are using their discretion to handle these incidents in a more productive way than through the formal justice system.

That said, it is important that states update their laws concerning explicit images of minors to account for these new behaviors so that those involved have some consistent guidance about how to proceed. In an effort to better understand how states have been responding, we have been working to catalog all of the state laws on sexting. As you can see from our summary (updated summer 2016), twenty-five states have passed laws that address minors sending and/or receiving sexually explicit images of other minors and only seven of those actually include the term "sexting" in the text of the law. Most of the laws prescribe a variety of penalties including informal responses and diversion away from the criminal justice system, but three states (Florida, Nebraska, and Utah) specify circumstances under which the minors involved could be charged with a felony. Three states (Nevada, Rhode Island, and Vermont) explicitly state that minors who engage in sexting shall not be considered sex offenders and will not listed on the sex offender registry. Some states also include provisions for the minor's record to be expunged when they reach a certain age if they successfully complete some educational programming.

I think we are just at the beginning stages of seeing legislation on sexting. Many states are likely sitting on the sidelines waiting to see what other states are doing in this regard to figure out what might work best. Without question this is a complicated issue that requires careful consideration. We will continue to follow developments in this area and if you know of a law in your state that is not included in this summary, please let us know about it!